Multicultural Living
Multicultural Living
Kashiwa-city has more than 7,000 foreigners (May, 2016). We are here to support you in many ways so that you, as foreign residents living in Japan, can live here without any problem.
---
Free Legal and Administrative Consultation for Foreign People
Free Legal Consultation for Foreign Residents Living in Japan
・Do you have any problem?
・Professionals deal with it for free.
・Place:Kashiwa Cross-cultural Center (KCC)
・TEL:04-7157-0281
※You need a reservation.
---
Schedule of Free Counseling Event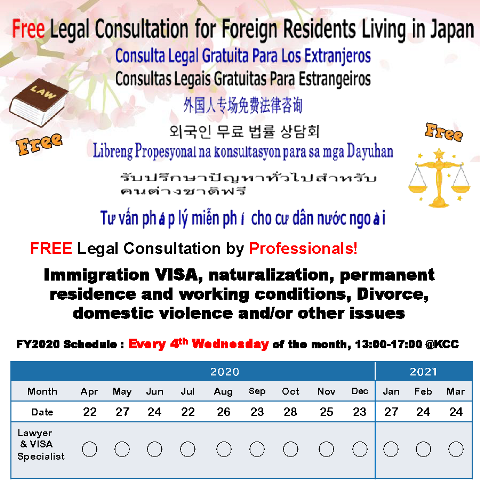 ---
Interpretation・Translation
---
Request Form for Translation
---
Living Information for Foreigners
■HOSPITALS■

The hospital which has foreign language (English and Chinese) support staff for foreign patients.

  Chiba-Nishi General Hospital
  TEL:047-384-8844
---
We have some pages for foreigners in the homepages of Kashiwa-city.
■For Foreigners
http://www.city.kashiwa.lg.jp/soshiki/400100/p007831.html
■English(英語)
http://www.city.kashiwa.lg.jp/soshiki/400100/p021374.html
■中文(Chinese)
http://www.city.kashiwa.lg.jp/soshiki/400100/p021243.html
■韓国語(Korea)
http://www.city.kashiwa.lg.jp/soshiki/400100/p021257.html
■Espanol(Spanish)
http://www.city.kashiwa.lg.jp/soshiki/400100/p021154.html
■ベトナム語(Vietnamese)
http://www.city.kashiwa.lg.jp/soshiki/400100/p054862.html
---